Crack Wipro Elite NLTH 2021 with Talent Battle!
IMPORTANT: THIS PACKAGE IS UPDATED ACCORDING TO LATEST PATTERN OF Wipro
REASONING ABILITY, VERBAL ABILITY, NUMBERCAL ABILITY, ESSAY WRITING, CODING , ALL THESE SECTION CONTENTS ARE UPDATED IN OUR PACKAGE .
New Batch starts from 25th November, 2020. JOIN NOW !!!
What will be covered?
1) Wipro Elite specific Online training ( Quantitative + Verbal + Logical )
2) Wipro Elite specific Live technical for Coding Section.
3) Essay Writing Training and Practice Essay Topics.
4) Wipro Elite specific mock test series with solutions will also be provided.
5) General Aptitude Test Series
6) Coding Statements for Practice
7) Doubt Clearing Sessions
Most repeated and expected questions asked during Wipro Elite Exam will be covered
---
New Batch starts from 25th November, 2020. JOIN NOW !!!
---
Who should buy this package?
This package is specially crafted from students who have prior knowledge of aptitude and directly want to start with Wipro specific questions and answers then this package is for you!
All those who want to increase their chance to get selected in Wipro and who want to prepare for Wipro with the best guidance and material should buy this package.
Note: All training content is pre-recorded so you can watch it anytime. Live Lectures will also be conducted once the Wipro Elite 2021 dates are launched and recordings of those live lectures will also be provided
For any queries Whatsapp us on +91-8459943139
Note: Recordings of the Missed session will be provided with time validity.
Check and compare between Wipro GOLD, SILVER and BRONZE package-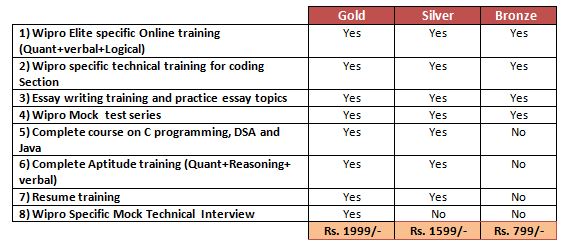 To learn complete Aptitude concepts from basics, Kindly check our Wipro SILVER package- https://bit.ly/3oAXKQj