Learn 6 Latest Technologies (with Certification)
Learn 6 Latest Technologies (with Certification)
Learn IoT, Cloud Computing using AWS, MongoDB, Django, Tkinter, Robotics! Best course with certifications at affordable fees!
Package Description
Package Includes: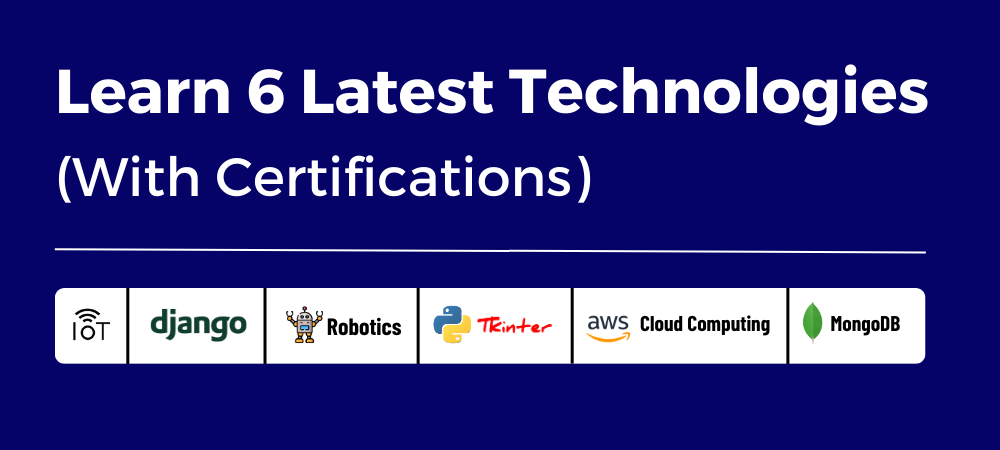 This package consists of LIVE + Self-Paced Training and Certification for 6 latest technologies which are in a lot of demand among corporates and startups. These certifications will help you to build your profile and improve the value of your Resume & LinkedIn Profile.
---
What will you Learn and Get?
A total of 100 hours of LIVE Training for IoT, Clouding Computing using AWS, Tkinter, Robotics, Django, MongoDB.

Mini-projects, tasks/assignments on each technology.

Certification for each technology on completion of training.

Live Training for each technology will be around 18-25 hours each.

Training will be from scratch and previous knowledge is not required.

Recordings of LIVE training will be provided for future reference.

The validity of Recordings will be 1 year.
---

---
Who Should Take this training?
Any student from any stream/branch who want to learn the latest technologies and wants to build his/her profile/resume/LinkedIn can take up this bundle of 6 certifications.
All technologies are taught from basics so there is no pre-requisites (no prior knowledge required)
Package Details

---
Course Overview:
Want to learn booming technologies and get valuable certifications to strengthen your profile? Want to become Industry 4.0 ready? Don't worry! Talent Battle is the best platform to learn these advanced technologies at the lowest cost.
We are providing 6 Latest Technologies in one package at a very affordable price. The latest technologies include IoT, Django, Tkinter, Robotics, Cloud Computing Using AWS, and Mongo DB. You will learn these 6 Technologies within a period of 3 months and will be getting hands-on experience through mini projects in these technologies.
Talent Battle will be providing certifications for these Latest Technologies. These certifications will surely add value to your resume and profile which will make a positive impression on the interviewer.
Becoming job ready has now become easy with Talent Battle!
---
Recordings of all LIVE sessions are provided on Talent Battle dashboard which can be accessed for 1 Year.
---
Sample Certificate

For Doubts Contact Us on Whatsapp: +91-8999359336 or Email us at contact@talentbattle.in
---
Course Creators & Mentors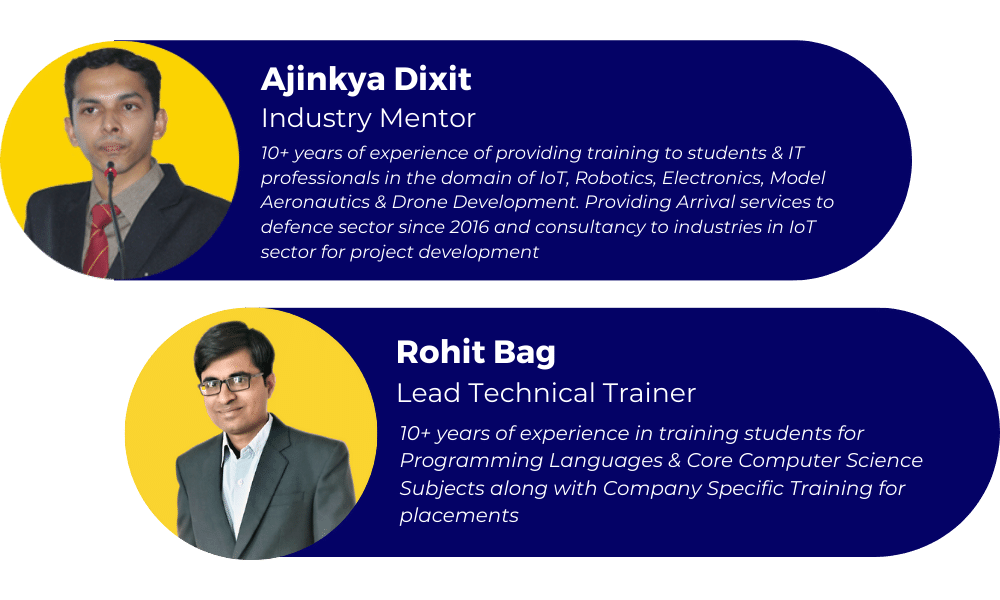 ---
FAQs
6 Technologies viz. Internet of Things(IoT), Robotics, Cloud Computing using AWS, Tkinter, Django, MongoDB are covered in this package.
Yes, Certification for each technology. For Eg. If you complete the course on Cloud Computing using AWS you will get certificate for Cloud Computing.
Each Technology Training is conducted for 15-25 hours depending on the technology. Total Course duration is 100 hours.
Training for all 6 certifications will be conducted LIVE on Zoom platform and recordings of the same will also be provided on Talent Battle Dashboard.
Min projects, tasks and assignments based on all 6 technologies are provided.
All 6 technology training are conducted from basics, hence there is no or very less requirement of prior-knowledge. You can check prior knowledge requirement of each technology in this pdf: https://prepare.talentbattle.in/6certifications
Tentative Schedule
The batch will start on 4th April 2023
April 2023
1. IoT
2. Cloud Computing using AWS
May 2023
1. MongoDB
2. Robotics
June 2023
1. Tkinter
2. django
LIVE Training are conducted in evening between 6pm to 9pm!
The entire package of 6 certifications costs just Rs.999/- only. Other platforms charge a lot of money from students for these latest technology certifications.
Technical
Mock Tests
Blogs
---
---