Cognizant FAQs
04 February 2023
Cognizant FAQs
Cognizant Frequently Asked Questions
Ask Us Anything !
B.E/B.Tech/M.Tech/MCA/M.Sc IT students from 2023 batch
• Students should possess consistent academic record with 60% or greater in X, XII, Diploma, UG & PG (all subjects will be taken into consideration) calculated as below.- Aggregate% = sum of all subjects marks scored / total no. of subjects (as of last semester result declared)
• Students with standing arrears or more than 2 years gap in education are not eligible
• At the time of joining, recruits should have an overall aggregate score of 60% or greater (all subjects will be taken into consideration) with no standing arrears
• Aggregate for the Students who have applied for re-evaluation (and are waiting for the results) will be derived based on the initial scores
• CGPA to % conversion will be considered as per University norms
• Opportunities are open only to Indian nationals
GenC (4 LPA)
GenC Elevate (4 LPA + Skill Bonus)
GenC Pro (5.4 LPA)
GenC Next (6.75 LPA)
GenC:-
Round 1: Aptitude Test
Round 2: Subject Matter Interview & HR Interview.
---
GenC-Elevate:-
Round 1: Technical Assessment
Round 2: GenC Elevate - Technical Interview & HR Interview.
---
GenC Next and GenC Pro:
Cognizant is going to recruit for these profiles through different channel for 2023 batch.
We will update about it here as soon as it gets announced.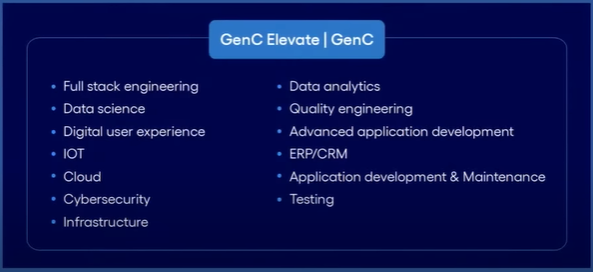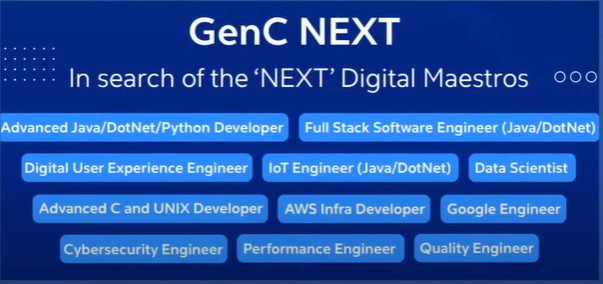 Basic Programming Expertise is enough to get placed for GenC profile through camous drives.
Foundational knowledge of coding, basic hands-on proficiency in programming and database skills
Advanced programming skills with Full stack development abilities.
Expertise in enterprise platforms/products & specific advance technologies.
Cognizant has a new employment profile called GenC Elevate. More individuals with coding experience are sought after for this position. GenC Profile is below and Cognizant GenC Elevate. GenC Elevate's written exam is more challenging than standard Cognizant GenC.
Package Offered is also more than Gen C in GenC Elevate.

There are 3 Rounds in GenC Elevate such as:-
Round 1: Technical Assessment
Round 2: Communication test
Round 3: Technical Interview & HR Interview.
For more details:
Cognizant generally pays the same salary during Training time as they pay in a full Time Role and its always mentioned on our Offer Letter.
Employees at Cognizant were let go for fabricating experiences and failing background checks. According to Cognizant, their involuntary attrition rate for the three months that concluded in September was 6%. For those who are unaware, involuntary attrition is just another name for workers quitting after being fired.
Cognizant was introduced on 26 January 1994 in Chennai.
To choose new hires for the position of assistant system engineer, Cognizant does three rounds
Written Round
Technical Interview Round
HR Round Interview
For more details:
Freshers are generally get paid from 4.5 LPA to 6.5 LPA
Yes, Cognizant can reject candidates after HR Interview but there are very less chances of this situation. It is possible in cases like invalid background verification check or any other blunder issue.
It generally takes around 15 days to 1 Month after the interview date.
Yes, if you are well prepared its easy to crack Cogniozant's Written round and Further rounds. Just polish your core concepts and have well knowledge of Aptitude and you must be able to communicate confidently in interviews, hence you can easily crack Cognizant.
There are many offices of Cognizant in India such as Bangalore, Chennai, Coimbatore, Gurgaon, Noida, Hyderabad, Kochi, Kolkata, Mangalore, Mumbai, and Pune.
As of January 2023, CEO Ravi Kumar S will be in charge of Cognizant. Former CEO Brian Humphries, CFO Jan Siegmund, and Rajesh Nambiar (President, Digital Business & Technology). Francisco D'Souza was succeeded as CEO on April 1 by Brian Humphries.
Technical
Mock Tests
Blogs
---
---