We have made changes to our Capgemini preparation package accordingly.
To check the pattern, click on details.
This Capgemini New Pattern Specific Preparation Pack includes:
•400+ Pseudocode questions with solutions in the form of Video lectures and Test Series
•MCQ based English Communication tests for practice
•Basic Verbal Ability Lectures to clear concepts
•180+ Questions and Guidance to prepare for Game Based Aptitude Round
•150+ Behavioral Competency Profiling Based Questions
•1 Mock Interview
•Complete Aptitude Cracker course covering all the topics from Quantitative, Logical & Verbal which will be useful for other companies as well (ADD-ON)
•C Programming Course from basics
It is a self-paced course, Recorded lectures will be provided which you can watch anytime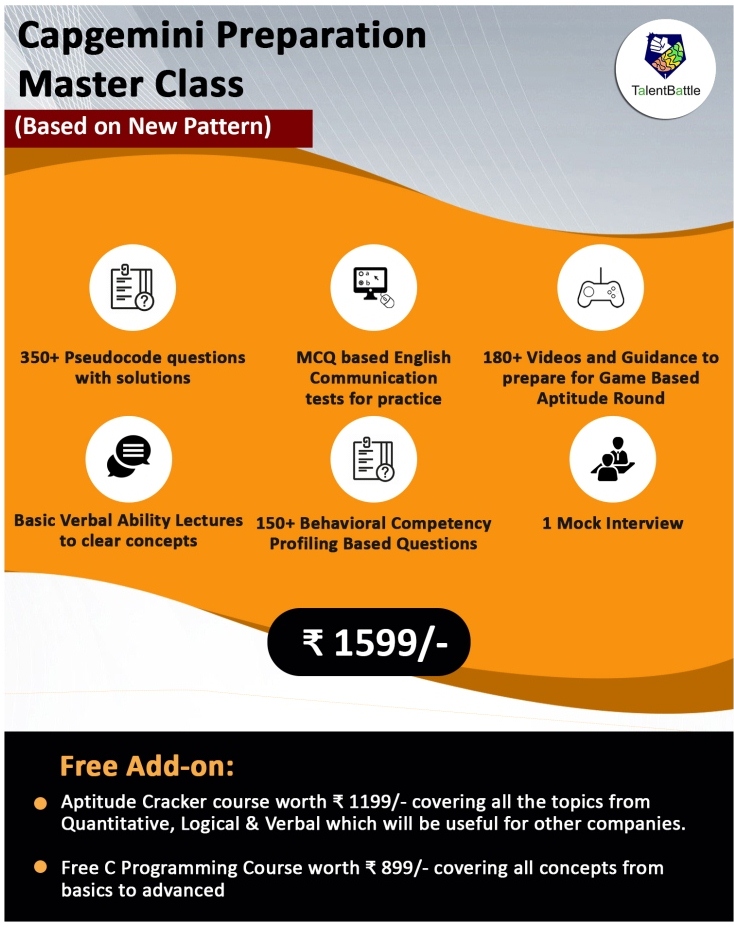 Who should buy this package?
All those who are preparing for the on-campus or off-campus drive of Capgemini and want to increase your selection chances should buy this package.
This is a complete preparation package for Capgemini. It covers each and every important aspect which is required for Capgemini .
New modules are getting added day by the day.
This Video will give you detailed information about the updated hiring pattern by Capgemini for 2021 batch