Capgemini Placement Preparation Course 2023
Capgemini Placement Preparation Course 2023
A Complete Package for your Capgemini preparation based on the latest 2023 Batch pattern!
Package Description
Package Includes:
Capgemini Placement Preparation Course Overview
Preparing for Capgemini is easy now! Prepare with the best Updated Capgemini preparation package by Talent Battle!
Perfect planned course content with Self Paced Learning to boost your Capgemini preparation.
Covers Pseudocode, DSA, Database, Networking, Cloud Fundamentals, Game Based Round, English Communcation MCQs, Guidance for Communication Round.
Capgemini Specific Training: 70+ hours recorded classes
Foundation Training for Aptitude and Coding: 300+ Hours (Useful for all the companies)
Get the best guidance and mentorship from expert faculties during your Capgemini preparation.
This masterclass includes a Capgemini-specific test series, an Aptitude test series, and mock test series covering a variety of questions from previously asked placement papers.
Learn various right methods of short-cuts and logic.
Prepare for your Interview round from the Personal-Technical recorded course.
Prepare your resume with the help of our Resume preparation course.
Face mock interview of Technical round from industry experts, focus on your strengths & your area of improvements for the success in the interview rounds.
Doubts clearing Telegram group.
---

---
Capgemini Placement Preparation Course Features

Complete Capgemini Package
Complete Capgemini Specific Preparation package (Based on Updated pattern) covering 400+ Pseudocode questions with solutions in the form of video lectures and Test Series, MCQ-based English Communication tests for practice, 180+ Questions and Guidance to prepare for Game-Based Aptitude Round and 150+ Behavioral Competency Profiling Based Questions.

Structured Preparation Plan
A well-structured preparation Schedule will guide you through your Capgemini preparation to hoist your placement preparation.

Best Success Ratio
Thousands of students achieved their dream company and still more in the race to achieve!

Fully Stacked Test series
Variety of questions covered in Section wise, topic wise and Mix mock test series. Covers questions asked in recent and previous year placement papers with detailed solutions

Mentorship/Doubt solving
We want you to achieve your ultimate goal with our Complete guidance and continuous support through doubt sessions, Course specific Telegram Doubt groups and WhatsApp support to keep you doubt free and make your preparation journey easier in a positive way.

Validity & Access
The course can be accessed from Mobile/Laptop/Desktop/Tablet. There will be a 1 year validity for this package
---

---

Success Stories
Swapnil Shantgonda Patil
Placed in Capgemini,
Talent battle is doing extraordinary work for betterment of students. It is doing Future brightening role.Really useful work is done with care for placement preparation.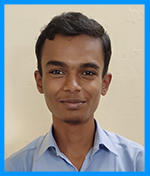 Himani Vidyadhar Sohani
Placed in KPIT,Wipro,
Study material provided by CFU was really helpful for me ,both teachers are supportive and they delivered better knowledge about aptitude and interviews .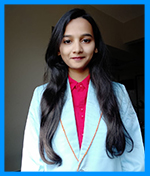 Package Details
Capgemini Placement Preparation Course Contents

Capgemini Specific Training
Capgemini-focused Training covering Pseudocode, DSA, DBMS, Cloud and Networking questions with solutions in the form of video lectures and Test Series, MCQ-based English Communication tests for practice, 180+ Questions and Guidance to prepare for Game-Based Aptitude Round, and 150+ Behavioral Competency Profiling Based course content imparted by extensive Analysis and Research of previous year questions and pattern by our experts
Duration: 70+ hours Recorded

Aptitude Training & Tests
Complete Aptitude (Numerical Ability, Logical Ability and Verbal Ability) training covering all the important topics from Numerical, Verbal and Reasoning ability. This Aptitude training is useful for various companies as well. Assess your aptitude skills with Topic Wise Aptitude Preparation Test Series
(Topics wise 47 tests) and a Full-length mock test series (10 Mock tests)
Duration: 70+ hours (Recorded)

PI & Resume preparation
The Personal Interview and resume preparation module covers training on Frequently asked questions of Technical Interview Training for major MNCs and mass recruiters. It also consists of a detailed discussion on How to answer frequently asked Personal Interview questions and how to prepare those answers effectively. It also consists of in-detailed information to create a resume with appropriate content and design.

Technical Recorded courses
This module consists of pre-recorded courses for C programming(20 hours), JAVA programming (20 hours), DSA in C++(20 hours), DSA in C (20 hours), C++ Programming (20 hours), Python Programming & DSA in Python (30 hours), DSA in Java (20 hours),
Duration: 230+ hours (Recorded)

Interview by Industry Expert
A Virtual Mock Technical Interview by Industry Experts will help you to the core in excelling your technical interview skills before your actual Placement Interview. A Mock Technical can help you understand your strong and weak technical & interpersonal areas which you can improve before your actual campus interview.
(LIVE Interview: 1 Technical mock Interview)
---
Course Creators & Mentors
This Online Training is conducted by the Co-Founders and Trainers of Talent Battle themselves who are expert Aptitude trainers working in field on-campus recruitment training for the past 7+ years and have placed thousands of students with their extraordinary teaching capability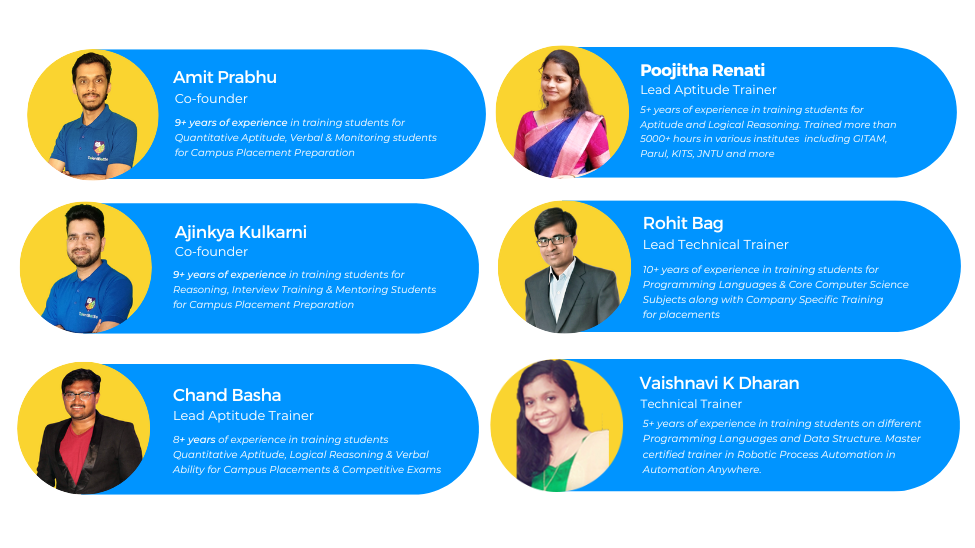 ---
For Doubts Contact Us on Whatsapp: 8459943139 or Email us at contact@talentbattle.in
Are you looking for a single course to prepare for major TOP MNC companies, then join Complete Placement Preparation Masterclass!
Technical
Mock Tests
Blogs
---
---