Java Programming Bootcamp with Free 2 Months Internship by Talent Battle
Learn Java from scratch in the Live Training batch! The Certified internship batch starts on 3rd October!
Package Description
Package Includes:
25 hours of Live Java Bootcamp training will cover basics to advance level concepts. Certification after completion of the course from Talent Battle.
All the students enrolling for this masterclass will get a Free two months Internship opportunity by Talent Battle.
Students need to complete 3 projects during the internship period.
After completion of projects, students need to submit them for evaluation.
Talent Battle will conduct internship tests and project evaluations.
Based on performance, students will be awarded an internship certificate which they can submit to college, and add to resumes and LinkedIn profiles.
You can watch recordings of live sessions at any time on a laptop as well as mobile.
Course validity is 1 year from the date of purchase.
Package Details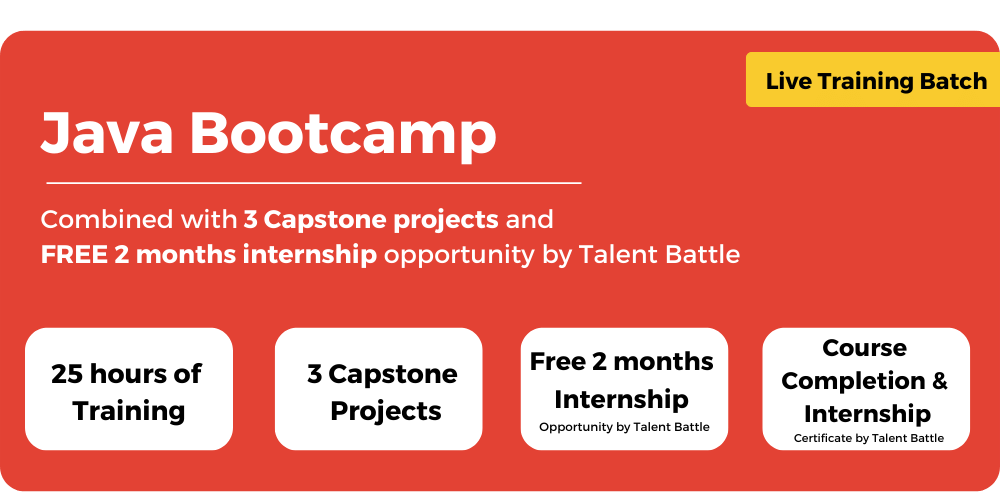 Course Overview:
This Live Java Programming Bootcamp will help all stream students to learn Python programming right from the basics and help them crack programming rounds for all major companies.
Java has a huge community that provides and fulfills the requirements of the developers. This makes Java one of the most demanded languages. Java developers are also in demand.
Who Should Take this training?
All the stream students can take this training to learn to program from the basics which will help crack programming rounds conducted by various companies.
Free Remote Internship opportunity
All the students enrolling for this Bootcamp will get a Free Remote Internship opportunity by Talent Battle!
The internship allows students to explore and work on various industrial projects.
The internship duration will be two months after the learning content is covered. Students are expected to work on projects during their internship period.
Students must submit projects for evaluation and go through internship tests after two months.
Upon completion of the internship time period, students will receive an internship certificate.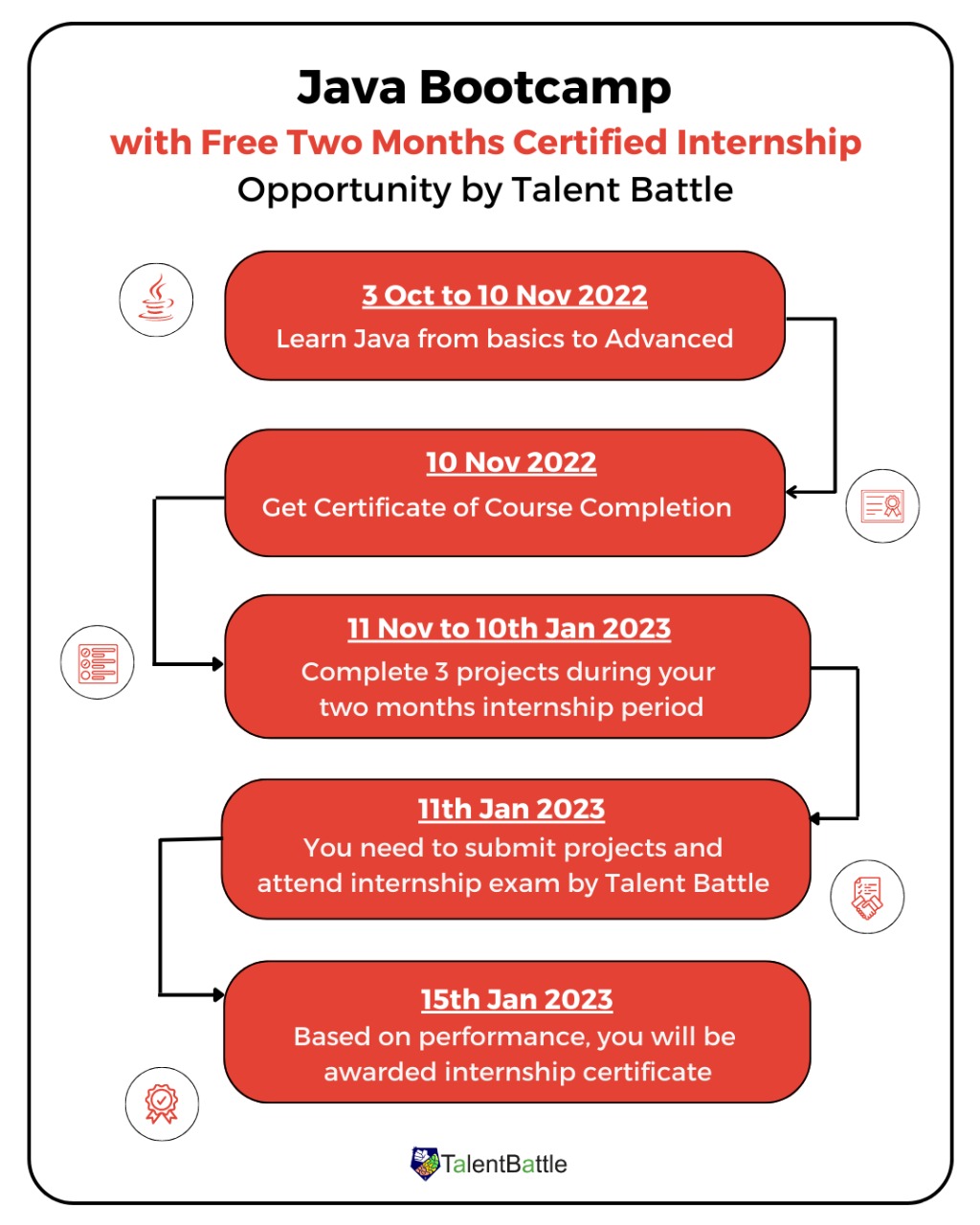 Features

Java training from basics to advanced level

Free two months remote internship opprotunity for all the students

Mentorship/Doubt solving
We stand behind our training and service, and we want you to achieve your target with complete Doubt clarification and mentor support throughout the preparation. Provision of Private Telegram group for quick and direct doubt resolutions from Trainers.

Validity & Access
The course can be accessed from Mobile/Laptop/Desktop/Tablet. There will be a 1 year validity for this training.
Course Contents

Java Specific Training
Syllabus has been created considering industry requirements. In case of any doubts, feel free to contact us on our website chatbox or WhatsApp.
For Doubts Contact Us on Whatsapp: +91-8149291675 or Email us at contact@talentbattle.in
---
Course Creators & Mentors

---
Register now to get a free two months internship opportunity.
Are you looking for a single course to prepare for major TOP MNC companies, then join Complete Placement Preparation Masterclass!
Technical
Mock Tests
Blogs
---
---