Learn Cloud Computing Using AWS (with Certification)
Learn Cloud Computing Using AWS (with Certification)
Learn Cloud Computing using AWS with Certification! Hurry Up!
Package Description
Package Includes:

This package consists of LIVE + Self-Paced Training and Certification for Cloud Computing Using AWS along with hands-on experience. This certification will help you to build your profile and improve the value of your Resume & LinkedIn Profile.
---
What will you Learn and Get?
A total of 20 hours of LIVE Training for Clouding Computing using AWS.

Mini-project, tasks/assignments on Cloud Computing using AWS.

Certification by Talent Battle on completion of training.

Training will be from scratch and previous knowledge is not required.

Recordings of LIVE training will be provided for future reference.

The validity of Recordings will be 1 year.
---

---
Who Should Take this training?
Any student from any stream/branch who want to learn Cloud Computing Using AWS and wants to build his/her profile/resume/LinkedIn can take up this course at an affordable price.
The Training will be right from basics so there is no pre-requisites (no prior knowledge required)
Package Details


---
Course Overview:
If you're ready to take your skills to the next level and want to learn advanced technology like Cloud Computing Using AWS, then you've come to the right place. Our comprehensive course on cloud computing with AWS is designed in such a way that even a beginner can learn this technology from scratch. The course is equipped with hands-on projects, expert training, and real-world examples, you'll be amazed at what you can achieve in just a few short weeks. So why wait? Enroll today and start your journey to become job-ready in today's advanced world!
We will be providing certifications on this Latest Technology. This certification will surely add value to your resume and profile which will make a positive impression on the interviewer.
Becoming job ready has now become easy with Talent Battle!
---
Recordings of all LIVE sessions are provided on Talent Battle dashboard which can be accessed for 1 Year.
---
Sample Certificate

For Doubts Contact Us on Whatsapp: +91-8999359336 or Email us at contact@talentbattle.in
---
Course Creators & Mentors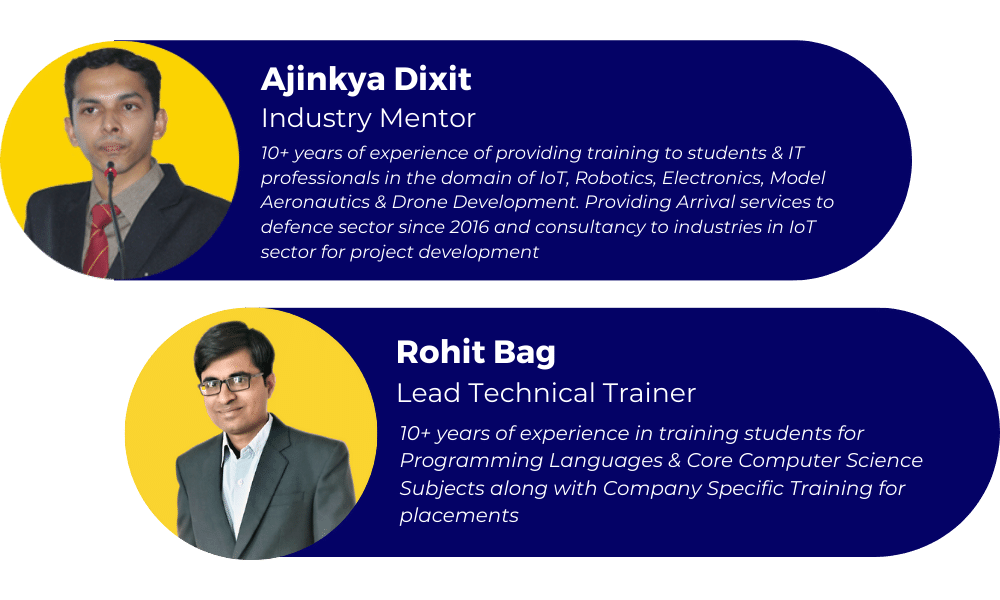 ---
FAQs
Cloud Computing using AWS is covered in this particular training.
Yes, Certification is provided after course completion.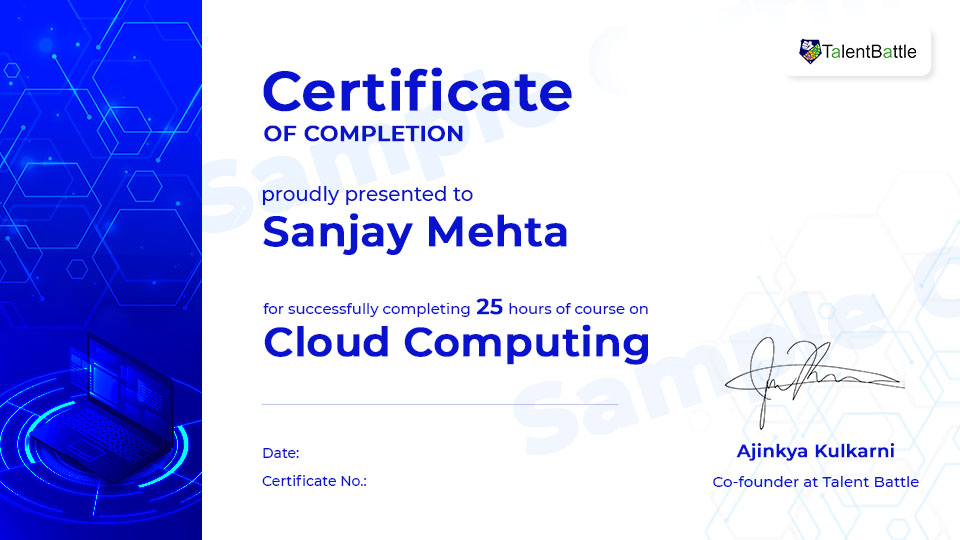 The duration of this training is 20 hours.
This Training is conducted LIVE. Also, the recording is provided for future reference with 1 year validity.
Yes, a mini-project based on cloud computing is provided along with the training.
The training is conducted from basics, hence there is no prior knowledge required. Every student who enrolls will completely able to understand the concepts.
This training costs just Rs.499/- only. Other platforms charge a lot of money from students for cloud computing course
The training starts on 4th April 2023. The training is conducted in the evening from 6 pm to 8 pm!