Cognizant FAQs
30 November 2022
Cognizant FAQs
Cognizant Frequently Asked Questions
Ask Us Anything !
B.E/B.Tech/M.Tech/MCA/M.Sc IT students from 2023 batch
• Students should possess consistent academic record with 60% or greater in X, XII, Diploma, UG & PG (all subjects will be taken into consideration) calculated as below.- Aggregate% = sum of all subjects marks scored / total no. of subjects (as of last semester result declared)
• Students with standing arrears or more than 2 years gap in education are not eligible
• At the time of joining, recruits should have an overall aggregate score of 60% or greater (all subjects will be taken into consideration) with no standing arrears
• Aggregate for the Students who have applied for re-evaluation (and are waiting for the results) will be derived based on the initial scores
• CGPA to % conversion will be considered as per University norms
• Opportunities are open only to Indian nationals
GenC (4 LPA)
GenC Elevate (4 LPA + Skill Bonus)
GenC Pro (5.4 LPA)
GenC Next (6.75 LPA)
GenC:-
Round 1: Aptitude Test
Round 2: Subject Matter Interview & HR Interview.
---
GenC-Elevate:-
Round 1: Technical Assessment
Round 2: GenC Elevate - Technical Interview & HR Interview.
---
GenC Next and GenC Pro:
Cognizant is going to recruit for these profiles through different channel for 2023 batch.
We will update about it here as soon as it gets announced.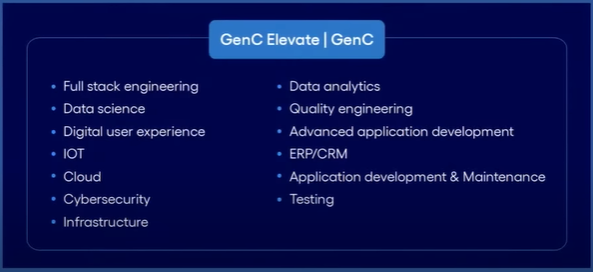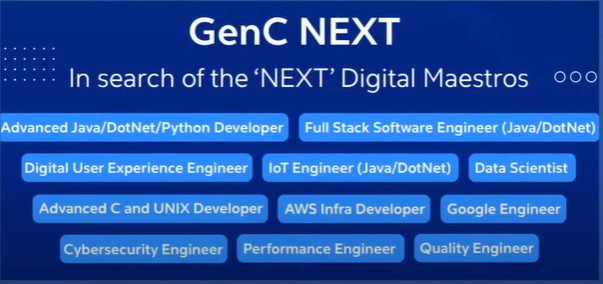 Basic Programming Expertise is enough to get placed for GenC profile through camous drives.
Foundational knowledge of coding, basic hands-on proficiency in programming and database skills
Advanced programming skills with Full stack development abilities.
Expertise in enterprise platforms/products & specific advance technologies.
Technical
Mock Tests
Blogs
---
---