All the placement opportunities and competitive exams start with the general aptitude test. Our experts are well known for their teaching methods which will help to understand aptitude concepts in the easiest and quickest possible way.
The motive of Online Training and Who should do it ?
Before starting any company-specific preparation it is very important to clear all your General Aptitude Basic clear and becoming proficient in solving at least easy and medium level aptitude questions so that you can become capable of tackling difficult aptitude questions.

This Online Training is specially crafted from students who need to learn aptitude right from basics and take it to higher levels. This Training is also suitable for the students who want to brush up their basics and know new tricks,tips and ways to tackle aptitude problems. Student preparing for campus placements or starting preparation for all competitive exams can take up this training.

This Onine Training is conducted by the Co-Founders of Talent Battle themselves who are expert aptitude trainers working in field on-campus recruitment training for past 6 years and have placed thousands of students with their extraordinary teaching capability.
Contents of Training :
55+ hours of recorded training sessions on all important chapters of Quantitative Aptitude, Logical Reasoning and Verbal Ability.

Aptitude Questions covered in the course will be from basic, moderate and advanced level.

Topic Wise Quantitative Aptitude questions, logical reasoning questions and verbal ability questions are covered in the course.

Practice questions for every topic is given with video solutions ( 20 hours of additional content)

Aptitude shortcuts, aptitude formulas, aptitude tricks and tips and covered in this course

100+ Section Wise, Topic Wise and Mix Mock Tests for Practice.

A Practice Question Bank of 1000 + questions.
---
Contact Us on Whatsapp: +91-8459943139 or mail us on contact@talentbattle.in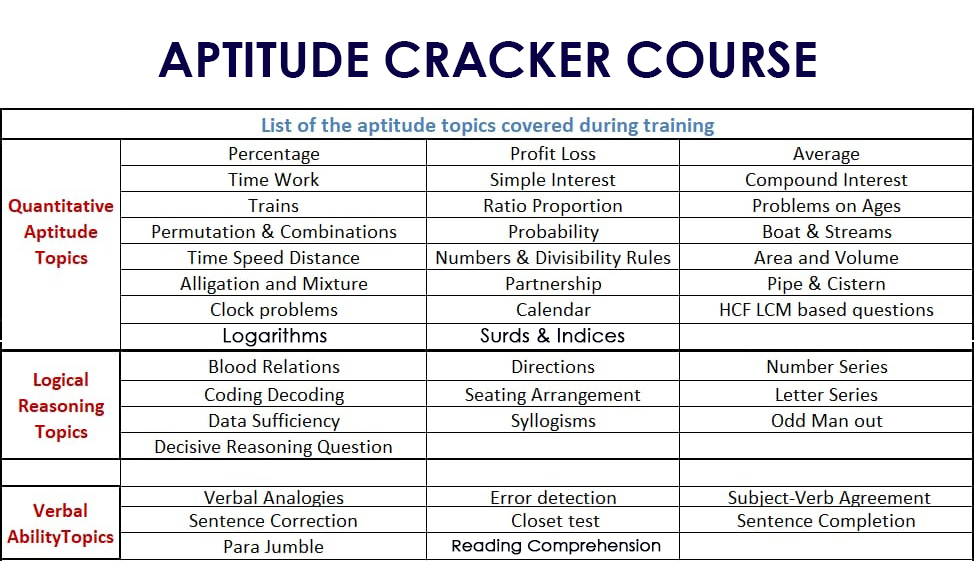 #aptitude preparation #aptitude test preparation course #aptitude questions #aptitude test questions and answers with solutions